Residential Softwashing 

in Upstate NY
Become the talk of the neighborhood with a crisp, clean, like-new look to the exterior of your home! 
When algae and mold get comfortable on your home's roof or siding, they can become problematic, compromising both the look and quality of the surfaces. Clean and Green's low-pressure, eco-friendly softwashing method is more effective than pressure washing your roof or siding. Pressure washing these pests away is a temporary solution to a not-so-temporary problem. While the stain is gone, the roots of the issue remain. Softwashing utilizes a cleaning agent that treats the problem from the root, providing a result that lasts four to six times longer than a pressure wash.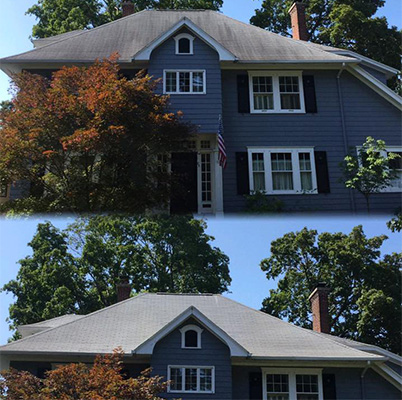 Softwash vs. Pressure
Using pressure to clean a surface presents several potential hazards to your home:
A pressure washer with up to 3500+ psi could damage your vinyl or wood siding, break a window, or blast shingles off a rooftop. Clean and Green's softwashing method is gentle enough to treat even the most delicate surfaces.

An uneven clean with a pressure washer will really show – clean in some spots, not so much in others. A softwash provides an even, consistent look to an entire house or roof.

Pressure washing also presents a danger to your landscape. An accidental spray or an attempt to wash behind plants could mean year-long damage. We ensure full protection of your plants and shrubbery during the softwashing process.
Why Clean and Green?
Our technicians are continually trained to ensure proficiency in every area of the softwashing process, including treating different materials and avoiding potential hazards. With 2000+ satisfied customers served over a decade of experience, there's nothing we haven't seen and nothing we can't clean!