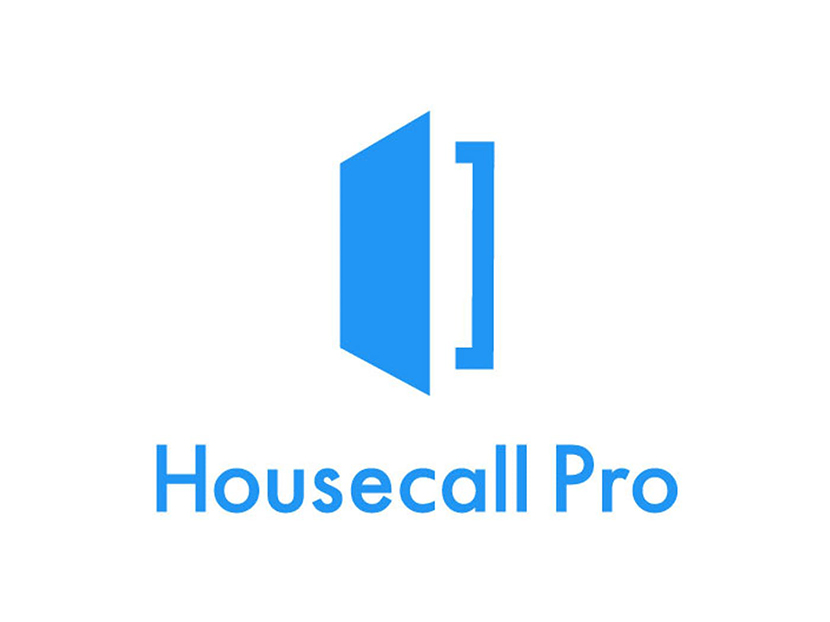 Roof & Exterior Softwashing

in Upstate NY
At Clean and Green in the finger lakes region of New York, we specialize in softwashing roofs and exteriors for homes and businesses. We help make houses, apartments, offices, stores, restaurants and warehouses maintain their curb appeal. Throughout the FINGER LAKES and Southern Tier regions, including Rochester, Webster, Keuka Lake, Penn Yan, Watkins Glen, Buffalo, Bath and Hammondsport, sparkling clean without any hassle or surface damage. We are the number one trained and certified company in New York!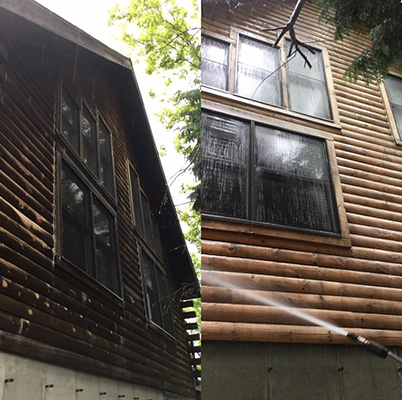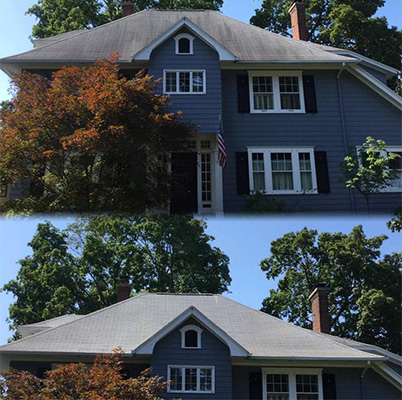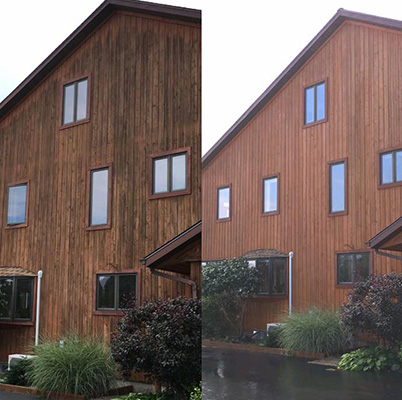 "Clean and Green services ranged from the removal of heavy road dirt on vinyl siding on our building on a main road, washing of main store fronts to cleaning stains off the asphalt shingles. I would recommend Clean and Green to anyone."
"I just had my wall to wall carpets cleaned today from Clean and Green. First, they were the best price quote out of 3 companies I searched. Second, they fit me in quickly in their busy schedule. Third, they kept in constant contact with me and let me know when arriving and also did a follow up call after. Fourth, the job they did on my carpets was incredible and I am very satisfied. Larry worked quickly, explained what he was doing and was very friendly. I would definitely recommend this company for any of your cleaning needs and I will be using them again for rugs and also deck washing. Thank you so much for the great job!!"
The outside of your home or business is just as important as the inside. When you see ugly black stains on your roof or siding, they're usually signs of algae and bacteria growth and need to be dealt with right away. A dirty roof or dirty siding can lower your curb appeal or even scare away potential customers. Over time, these growths can cause cracks to appear in your roof or siding, increase your utility costs and force you to replace your roof or siding. These growths can also penetrate the surface and damage your roof and overall building.
Most property owners might resort to power washing the growths away; however, this can damage your roof or exterior and possibly void your warranty. Not only will your home or business look worse, it'll also be a much bigger hassle to fix.
Our softwashing solutions can thoroughly clean mold, moss, algae and more off of your siding and roof without creating any damage. Our cleaning solutions are custom mixed with mildewcides, algaecides and surfactants to offer a reliable solution to whatever has contaminated your roof or exterior. Our custom detergent blends activate within minutes of application and last for months, ensuring your roof and exterior are clean for a long time. We use minimal water pressure to clean off surfaces—no more powerful than a garden hose—to clean the surface without damaging roof shingles and siding. We also prepare the surface before softwashing by making any necessary repairs before cleaning and brushing off any surface-level contaminants like moss and lichens for thorough, long-lasting results. Softwashing can save you the hassle of having to replace your roof and siding at a much lower cost.
As the only softwash-certified company in the area, we stand behind the quality of our work, no matter the difficulty of the job. We even offer a 5-year warranty on all roof softwashing services.
Why Count on Clean and Green?
As the only trained and certified softwashing and pressure washing company in the state of New York, we have extensive experience with cleaning dirt, mold, mildew, algae, fungus and other contaminants from roofs, siding, concrete surfaces and more. Our cleaning solutions contain mildewcides, algaecides and surfactants that are custom mixed to meet the specific needs of your home or business. Not only are our cleaning methods effective, but they are also eco-friendly, so you can have a clean home or business while reducing your carbon footprint. Clean and Green uses high-quality softwashing equipment from SoftWash Systems. Not only are we able to transport as much of our cleaning solution as we need for cleaning projects of any size—whether we're washing your windows or the entire outside of your home—but we also use optimal water/surfactant blends to get the job done right.
Call us today at (855) 567-WASH or fill out the form to the right to see how we can clean the dirt and grime from your home or business!